Attitudes Toward Aging Affect Longevity
In fact, studies show that those with negative perceptions of aging have a decreased life expectancy of 7.5 years!
Imagine that! Those people who look forward or are not afraid of aging live YEARS longer!
age·ism (n)
prejudice or discrimination on the grounds of a person's age.
---
Ageism is everywhere.
TV, advertisements, birthday cards, social media, and even our workplace and health systems.
Although ageism affects people at every age, many common ageist themes portray negative stereotypes against older adults.
Ageism can be can be external or internal.
External: Things we see in the world such as stereotypical media that portrays older adults as frail and forgetful.
Internal: Something we believe about aging within ourselves such as forgetting something and then stating "I'm getting old".
It is important to tackle ageism and promote positive, inclusive conversation and communication. Check out this video on Age-Friendly communication principles from our UK friends the Centre for Ageing Better:
Materials for professionals to use and help us in the fight against ageism.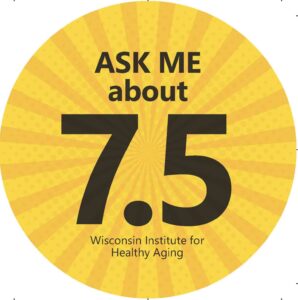 Demonstrate Your Support for an End to Ageism:
WIHA created buttons and cards outlining the benefits of a positive attitude toward aging. These buttons have been distributed in communities throughout Wisconsin to educate the public about the very real health impacts of ageist thinking.
If you're interested in purchasing a quantity of buttons and cards for distribution in your community, contact us. Buttons are $.40 each but must be purchased in quantities of 50 or more. Shipping costs based on location. Cards may be downloaded below. Contact info@wihealthyaging.org for more information.