The Wisconsin Institute for Healthy Aging (WIHA) is a one-stop shop for evidence-based health promotion programs and practices that can bring the power of self-care to adults throughout our state and nation.
Over 40,000 people in Wisconsin have taken one of our programs through a network of provider organizations. That means thousands fewer trips to the emergency department or hospitalizations, fewer falls, better caregiving, and measurable reductions in the progression of illnesses.
Our Mission & Vision
Our Guiding Principles
Our History
Our Board
Our Partners
Our Staff
The mission of the Wisconsin Institute for Healthy Aging is to improve the health and well-being of all people as they age. We do this by disseminating evidence-based programs and practices and by engaging in collaborative public health strategies in Wisconsin and beyond.

We envision a culture of healthy aging that embraces equity, independence and self-management, and that values every person in every community.
WIHA is committed to:

Healthy aging: A positive approach to aging through self-efficacy and self-management
Evidence-based interventions: We support, encourage, and promote programs and practices that are based on research, science, and medical expertise
Partnership and collaboration: Success is achieved through work with communities and other stakeholders
Equity, inclusion and diversity: We intentionally work to eliminate disparities with sensitivity and respect for all cultures
Servant leadership: Teach, coach and mentor those who provide programs
Advocacy: A voice for systems, policies, and attitudes that support healthy aging
Humility: Listen to and learn from the communities we serve
Healthier aging takes research, practice, and the power of people. WIHA is here to help everyone age well.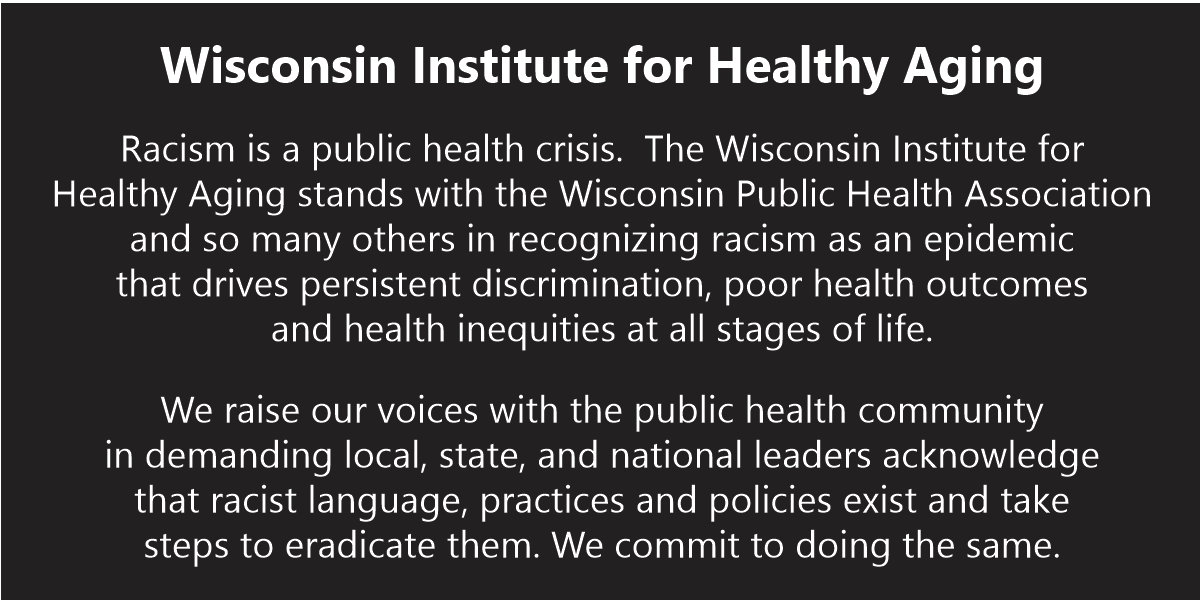 Bold beginnings
Wisconsin's Department of Health Services (DHS) received a grant from the National Council on Aging (NCOA) in 2008 to develop an infrastructure that would sustain evidence-based prevention programs for healthy aging and foster the growth of new ones. A major component of this infrastructure was the development of the Wisconsin Institute for Healthy Aging – a 501(c))(3) non-profit organization dedicated to the expansion researched and proven programs to improve wellness as people age.

Founding Partners: Wisconsin Department of Health Services Office on Aging, Wisconsin Division of Public Health, Aurora Health Care, Greater Wisconsin Agency on Aging Resources, Milwaukee County Department on Aging, Aging & Disability Professionals Association of Wisconsin

Why WIHA Works in Wisconsin
Relationships matter. While Wisconsin has long been recognized as an innovator in providing programs and services to meet the changing needs of older people, particularly in the areas of health and long-term care, it has more recently been recognized as a trailblazer in forwarding evidence-based prevention programs through its network of Program Providers in counties and tribes statewide. Through collaboration, WIHA has developed strong partnerships that have been the backbone of both the research that produces evidence-based healthy aging programs and the dissemination of those programs throughout the state.
WIHA Board Officers:
President: LaVerne Jaros, Executive Director (retired), Aging & Disability Resource Center (ADRC) of Kenosha County

Vice-President: Darcy Vanden Elzen, Assistant Director of Programs |Center for Community Health Advancement, Marshfield Clinic Health System

Secretary: Jonathon Weiss, Physical Therapist, Bellin Health

Treasurer: Debbie Paavola, Director, Waushara County Department on Aging Services

Immediate Past-President: Christine Klotz, Program Director (retired) – Health Foundation, NY
Board Members:
Jonette Arms, Assistance Administrator, Division of Public Health, Wisconsin Department of Health Services

Devon Christianson, Director – Aging & Disability Resource Center (ADRC) of Brown County

Jane Mahoney, MD – Chief Medical Officer, WIHA and UW-Madison – School of Medicine & Public Health

Cynthia Ofstead, Director, Office on Aging, Wisconsin Department of Health Services

John Schnabl, Executive Director, Greater Wisconsin Agency on Aging Resources, Inc. (GWAAR)

Mary Wolf, Aging & Disability Services Director, Great Lakes Inter-Tribal Council, Inc.
Partnerships are the foundation of WIHA's success.
WIHA administers programs, but it's our partners who create and deliver them. WIHA partners with the Community-Academic Aging Research Network (CAARN) and community partners across the state to create and research new programs that meet community needs. Once proven, WIHA brings them to scale.
Program provider organizations are a network of program delivery for program leaders, host sites, and participants in communities throughout Wisconsin. The chart below outlines the broad categories of partnerships that are the foundation of the healthy aging movement.
Find staff descriptions and contact information on the Contact Us page.
---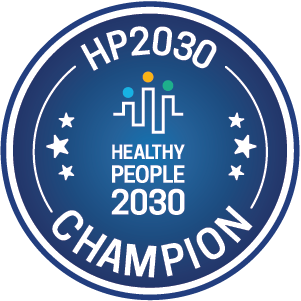 Healthy People 2030 Champion is a service mark of the federal U.S. Department of Health and Human Services. Used with permission. Participation by WIHA does not imply endorsement by HHS/ODPHP.
Thank you to our Leadership Circle Members