Mind Over Matter: Healthy Bowels, Healthy Bladder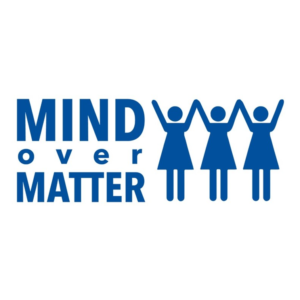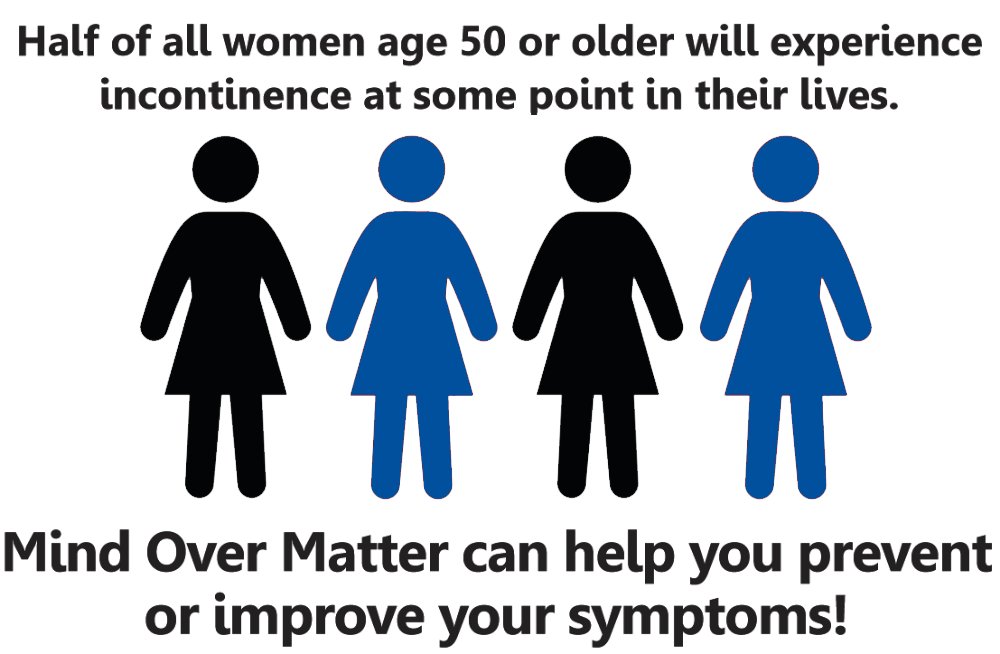 Bladder or bowel leakage is a common problem for many women – especially as we get older. But there are solutions you can try – without medication or surgery – to help you avoid or control these symptoms.
3 sessions. 6 hours. Feel better and do more.

Mind Over Matter: Healthy Bowels, Healthy Bladder (MOM) is a researched and proven program designed to give women the tools they need to take control of bladder and bowel leakage. Join a MOM workshop and learn strategies for preventing or lessening symptoms including information sharing, group activities, simple exercises, and dietary changes. With practice, these new skills are proven to help you avoid or reduce leakage so you can keep doing the things that matter most to you.
Researched and proven to improve bladder symptoms for 71% of participants and bowel symptoms for 55%!


A program that helps older women build the skills and confidence they need to avoid or improve symptoms of incontinence (bladder and bowel leakage). It is:
Short and sweet: 3 sessions, each lasting 2 hours, every other week for one month

Comfortable: Limit of 8-12 women fosters trust & privacy

Community-based: Led by a trained female facilitator

Interactive: Engages women to work together to set and meet personalized goals

Fun: Incorporates social interaction, tasteful humor, and fiber-filled snacks

Effective: Improves bladder symptoms for 71% of participants and bowel symptoms for 55%!
Mind Over Matter (MOM) is for women who…
Are aged 50 or older

Live independently in a home or apartment

Have experienced bladder/bowel issues OR are interested in preventing them

Can attend all three scheduled workshop sessions
MOM is not appropriate for women with acute illnesses (cold or flu), severe hearing/vision loss, or dementia. To get the full benefit of MOM, you should be able to make changes to how you eat and drink, change the timing of your fluid intake and bathroom breaks, and do low-impact exercises in a seated position. If you cannot make these changes, MOM is not appropriate for you.

If you are experiencing pain in your lower abdomen or pelvis or see blood in your urine or stool, you should talk to your health care provider about your symptoms before signing up for MOM.
In 2017, Dr. Heidi Brown and her research team at UW-Madison tested the workshop in six Wisconsin communities. One hundred twenty-two women were enrolled in the randomized, controlled trial. Half the women were in the treatment group, which meant they attended Mind Over Matter (MOM) before they completed follow-up surveys about their symptoms. The other half were in the control group, which meant they did not attend MOM before completing follow-up surveys.

While most women in the treatment group had improved bladder and bowel symptoms 3 months after completing the MOM workshop, symptoms stayed the same for most women in the control group. We used six standardized questionnaires, and women in the treatment group improved on all six!

See the article:
"In the last three months, I've had only 3 small leakages. Before the workshop, I used to have several leakages a week. I am so glad I took this workshop because it has greatly improved my confidence."

-Past Participant
Not everyone is familiar with what are the strategies that can be used. This course has a whole resource page on what treatments are possible. So, if a doctor says well the only cure for this is surgery for bladder or bowel problems. The truth is, no not really, there may be other solutions. You may go through a few different treatments to find what works for you or you may need the surgery, but it gives you the tools to try non-invasive things first.

-Jane Bannerman, Dane County
If you're located outside of Wisconsin, view our MOM map to see what other states MOM is in and who to contact for more information.
Questions? Contact mom@wihealthyaging.org
Interested in becoming a facilitator? Visit our Become a Facilitator page to learn more.